Enjoy the creativity and wisdom of your dreaming mind, and give yourself the gift of meaning.
Explore your dreams with a community of dreamers from around the world.
Finding Meaning and Guidance in Your Dreams
January 21 – February 12, 2023
Online Course
Are you using the incredible wisdom, creativity and insight available to you each night? In this experiential DreamSynergy™ workshop, Justina Lasley personally guides you through practical exercises for understanding the meaning of your dreams so that you develop skills for becoming your own dream counselor. You may watch videos and ask Justina questions to fit your schedule.
CEU's Available!
More information and REGISTER NOW online at www.Glidewing.com
IDS Certification Course
Applications are now closed for the
Dream Studies Certification Program for 2022- 2023.
Please check back with us for next year's program or get on our mailing list to hear about future offerings.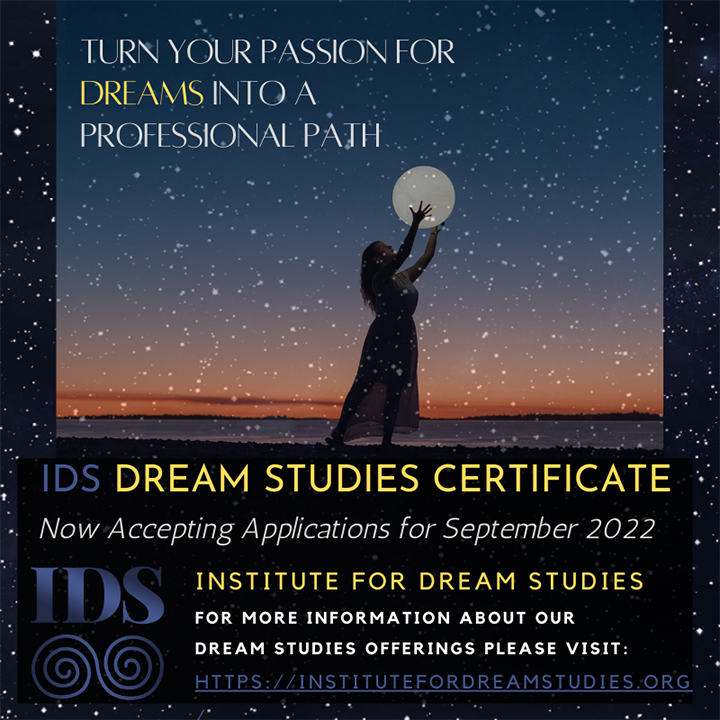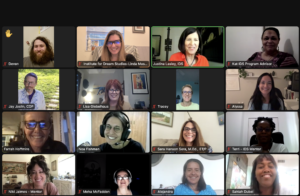 Going On Now


The Institute For Dream Studies Dream Certification Program
Check out our Institute for Dream Studies Certification Program that is in full swing right now. So excited to work with these incredible international students, mentors and Linda Mastrangelo, lead faculty.
For more info about future certification CONTACT US
IDS presents
Dreaming into Health Series
Health-Related Dreamwork
January 9, 2023
10 am- 12 pm Pacific Time (California)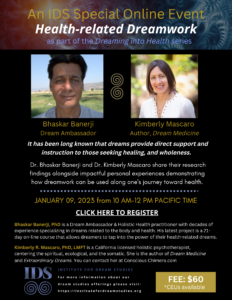 The Institute for Dream Studies is excited to host a very special event, Health-related Dreamwork with Drs.

Bhaskar

Benerji and Kimberly Mascaro. 
Are you ready to tap into the power of your dreams and discover your own inner guidance for health and healing?
It has been long known that dreams provide direct support and instruction to those seeking healing, and wholeness.
Dr. Bhaskar Banerji and Dr. Kimberly Mascaro share their research findings alongside impactful personal experiences demonstrating how dreamwork can be used along one's journey toward health.
No attendance cap necessary, as this will be a presentation and discussion. Experientials will be given after, in our individual courses offered in 2023.
Bhaskar Banerji, PhD considers himself an ambassador from the dream world. Without dreams he would be completely lost in this uncertain journey of life. Almost every major career change has been initiated by dreams, both big and small. Dreams have helped him navigate illness and maybe even prevented a few. On his travels around the globe, dreams have kept him safe. Dreams have consistently pointed out his blind spots and weaknesses thus facilitating his psychological evolution. Dreams have provided him with hope and guidance in times of despair. They have revealed to him who is a true friend as well as who is foe.  From this list, it should be clear that he really depends on dreams for both physical survival and psychological well-being.
Bhaskar obtained his Masters in Holistic Health Education from JFKU and his PhD in Mind-Body Medicine from Saybrook University where he focused on investigating the relationship between illness and dreams. Can dreams forewarn us of impending disease? Can they prescribe treatments for those who are ill? Can they tell us whether our current course of treatment will succeed in restoring our health? Can they guide us in the direction of health and wellness?
Of late, he has developed a 21-day, self-paced, on-line course to help people extract information about their health from their dreams. For more information please visit:Dream Research: http://dreamanalytics.weebly.com
Kimberly R. Mascaro, PhD, LMFT is a California licensed holistic psychotherapist, centering the spiritual, ecological, and the somatic. She is also a two-time nonfiction author, visual artist, meditation facilitator, and university faculty with over 20 years of professional experience in the field of mental-behavioral health. Dr. Kim is passionate about wellness and self-care, holding certifications in Hypnotherapy, Yoga Nidra, and Integrative Mental Health.
She is the author of Dream Medicine: The Intersection of Wellness and Consciousness (2021) and Extraordinary Dreams: Visions, Announcements and Premonitions Across Time and Place (2018). Having been a student of both Western and Eastern Mystery Traditions for almost half of her life, Dr. Kim's presentations and workshops are rooted in consciousness studies, dreamwork, meditation, and self-care. Her research on dreams has been presented and published in the USA and Europe. Contact her at ConsciousChimera.com
For more information and registration