New Announcement!
New IDS Certification Course Begins January 2024
Open for Applications
Follow your dreams with us into your future!
Turn Your Passion for Dreams into a Professional Path
Whether you are a therapist, counselor, or coach who wants to add dreamwork to your professional toolkit, or whether you are a person who wants to deepen your connection to your deepest self through exploring dreams, or both—The Institute for Dream Studies Dream Certification program can help you make your dreams come true.
The Institute for Dream Studies Dream Certification Program will not only give you the certification you need to be regarded as a qualified dreamwork professional who can offer dream groups, workshops and classes. This program also offers opportunities for individual growth and development, as well as membership into a worldwide community of dreamers.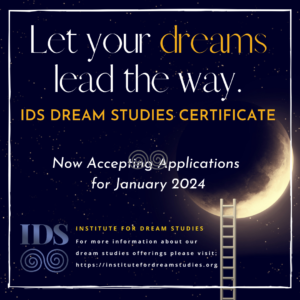 The full program for certification (all three levels) can be completed in one-year. The course includes real-time class sessions and small group discussions conducted over videoconference, as well as one-on-one online meetings with faculty members, and community gatherings online.
Levels two and three also include opportunities to practice leading groups, including a practicum in Level 3.
Continuing Education credits are available on request for a small fee.
Our Staff Includes
IDS Lead Faculty:
Justina Lasley, MA, IDS Founder, Lead Faculty and author
Linda Mastrangelo, MA, LMFT, Executive Director, Lead Faculty, Psychotherapist and Certified Dreamwork Professional
Mentors:
Graduates are often invited to be mentors to current students. IDS would like to support our graduates moving forward which includes possible teaching opportunities.
Guest Faculty:
IDS students enjoy the expertise of Visiting Faculty members who are leaders in the field of Dream Studies. Bhaskar Banerji, Deirdre Barrett, Fariba Bogzaran, Kelly Bulkeley, Edward Bruce Bynum, Robert Hoss, Ryan Hurd, Lee Irwin, Stanley Krippner, Sarah Janes, Kimberly Mascaro, Caitlín Matthews, Jean Raffa, Jeanne Van Bronkhorst, Linda Yael Schiller, Robert Waggoner and many others.
What you'll learn
DreamSynergy™:
Created by our founder Justina Lasley, The DreamSynergy™ (DS) approach to dreamwork is based on the belief that all dreams are significant and can be used to come to new understanding by bringing unconscious material to consciousness. The dream brings you new information and truth that is not often available in your waking consciousness; thus it is precious and beneficial to all types of psychological and physical health.
DreamSynergy™ (DS) is an eclectic blend of various theoretical approaches. It is predominantly based on Jungian and Gestalt psychological perspectives, but is open to many psychological domains, i.e. Biological, Cognitive, Development, Social and Personality, and Mental and Physical Health.
Areas of study will also include some or all of the following:
Dreamwork for Personal Growth and Change
Didactic and Experiential Learning
Approaches to Dreams: Psychological, Scientific, Spiritual, and Mystical
Beliefs About Dreams: Personal, Historical, and Cultural-Cultural
Benefits of Dreamwork: A Survey of Research and Results
Practical Applications of Ethics in Dreamwork
Theories in Dream Studies (including Freudian, Jungian, Gestalt, and more)
Further studies in Facilitating Dreamwork Exercises for Individuals and Groups
Dream Incubation, Lucid Dreams, and PSI Phenomenon
Finding your purpose through Dreamwork
Setting up a Dreamwork business
Dreamwork in the Community: Adapting dreamwork practices for corporate, educational, and community groups
Dreaming Mindfully and Living Lucidly
Practicum: Creating Dream Groups and Programs
Enjoy specialized presentations and classes with guest faculty who are leaders in the field
Graduates
Many of our graduates have gone onto using their education at IDS professionally in a variety of ways as psychotherapists working clinically with their clients; health and wellness experts who have incorporated dreamwork into their practices; spiritual advisors and life coaches supporting their communities; educators who are weaving in dream studies into their curriculums; authors and researchers publishing and presenting on various subjects on dreams; artists who have used their dreams for inspiration, and so on. Dreams can also be integrated into any profession to create a unique hybrid model.
Graduates:
Receive Institute for Dream Studies Certification and become a Certified Dreamwork Professional
Become part of the alumna community of the Institute for Dream Studies
Receive 20% discounts on selected IDS workshops, courses, and products
Become Certified Professional dream group facilitators, dream professionals and leaders in the field
Here's what Graduates and Guest Faculty say about
the Certification Course:
"The Institute for Dream Studies offers one of the pioneering programs in practical dream exploration. The experienced teachers and vibrant students make IDS a uniquely stimulating environment to learn about the powerful depths and amazing creativity of the dreaming imagination. Open to both newcomers and veteran dreamers, the IDS program provides wonderful opportunities for anyone who wants to develop the practical skills and personal knowledge to bring the power of dreaming out into the world."
– Kelly Bulkeley, PhD, Author and Dream Scholar
"Taking this IDS Certification course has changed my profession as a therapist. I now have dream groups on a regular basis…. I would have never dared start working with them last year. I started to much more believe in myself and in my potential. The depth and the energy of the group have tremendously helped. I am terribly grateful."
– Valerie Reichmann, Israel, IDS Certification Graduate
"One lucky day I happened upon the Institute for Dream Studies certification program on the Internet. It appealed to me and I traveled from Iceland to the Open Center in New York to attend a DreamSynergy workshop. It turned out to be a crucial encounter for me, and in spite of the geographical distance, I decided to enroll in this program at IDS in Charleston, SC. It was a leap that brought me treasures!"
– Hallfríður Reykjavik, Iceland, IDS Certification Graduate
"Justina's devotion to a personal practice of working with dreams is accompanied by a wealth of knowledge about group dreamwork! I am certain that anyone who is seriously committed to developing expertise in dreamwork for either personal or professional practice will be pleased with this certification program! Justina is one of the most gifted and informed dreamworkers of our time!"
– Dr. Deborah Armstrong Hickey, LMFT, RPT-S, and Graduate IDS
"Justina Lasley is one of the most enthusiastic dreamworkers I know. Her workshops are grounded in psychological research, both hers and that of others. Participants discover new directions for their careers, their personal relationships, their creative projects, and their spiritual life."
– Stanley Krippner, Ph.D. Author, Professor of Psychology
"I'm so appreciative of your dedication to educating and aiding people around the world to pursue their passion for dreams and dreamwork. Being an IDS student greatly enhanced my knowledge, adding valuable skills to my treasure chest of resources for understanding my own dreams and guiding other people to understand theirs.Thank you for being YOU and shining your light."
– Laurel F. Clark
, IDS Graduate
"I remember the day I decided I was finally going to pursue my life-long dream, to study dreams. It wasn't long before I "stumbled" upon Justina's work in my research and fell in love with her essence. It was easy to see that Justina's authentic self was represented through her work and that inspired me very much. At the time, she was revamping her program and I was told the unfortunate news that I'd have to wait a whole year before it was ready. I decided to seek other programs in the field but was continuously led back to the Institute for Dream Studies. It was then that I knew IDS was going to be worth the wait, and that there would be many blessings to come along with it. I was blessed with a kind, patient, and knowledgeable teacher/s who shaped me into the dreamer I am today — I am very proud to say that and to be a graduate of IDS."
– Guylaine Richer de Lafleche, Canada, IDS Graduate
"I'm so grateful to have graduated from IDS as a Certified Dreamwork Professional. I love Honoring the Dream and appreciate being able to use the dream exercises to help others find the deeper meaning of their dreams."
– Amber Dawn McCrackin, IDS Graduate
"Justina Lasley has opened the world of "dreams" for me, and she has been an inspiration for me in expanding my skills in dreamwork. Her insight into dream analysis has helped me to become a confident professional in the dream field."
– Terri Collins, IDS Mentor and Graduate
"For me dreams have always been a major part of my life, however I lacked the understanding of them. Justina not only helped gift me the language of dreams but the road maps in which to travel along them which a confidence and security within myself. I can't thank Justina enough for her passion and enthusiasm for the dreams and the work. She is driven to help others understand the language of their own souls, which in my opinion, is one of the greatest gifts anybody can give to another person. Bless you and I love you."
– Katrina Appleby, IDS Mentor and Graduate
A Practical, Affordable Approach
You've got a full life, and a full plate to match. So we've created an interactive on-line dream education program that is easy to fit into your schedule, with a price tag that that gives you a valuable education you can afford.
Contact us to receive more information about the next IDS Certification!
Tuition for full certification is $5,950 or less with payment options. The entire 3-level program can be completed in as little as one year.
Is the Dream Education and
Certification Course for You?
The Institute for Dream Studies program is for you if:
You are a therapist, counselor, or coach who wants to add dreamwork to your professional toolkit.

You are a professional who wants to learn to use dreams to infuse more meaning and creativity into your work.

You want to deepen your understanding of yourself and your dreams for personal growth, and/or out of a desire to learn more about the third of your life that you spend asleep and dreaming.

You want to become an expert in dream studies and lead workshops and dream groups.

You want to form lasting friendships and collegial relationships with leaders in the field, including scientists, therapists, scholars, and artists who specialize in dream studies.

You want to grow as an individual, or as a professional, and gain courage, confidence, and wisdom as you connect with the guidance and healing power of your dreams.
If you are ready to add riches to your professional and personal life, the Institute for Dream Studies' expanded and updated Interactive 3-Level Online course in Dream Studies and Dream Certification can put you on the road to greater personal and professional fulfillment.
Admissions
Admission to the program will be based on completion of an application form and will also require one letter of recommendation. Those who are being considered for the program will also be interviewed by an IDS faculty member. Space is limited for each level, and admission is granted solely at the discretion of the IDS Director and Faculty.
Eligibility
The Institute for Dream Studies offers training in becoming a Certified Dream Professional (CDP) for people who have a deep interest in and commitment to the study of dreams for personal and professional growth and development. Ours is a rigorous training program that involves intellectual engagement as well as a willingness to be open to personal transformation through dreamwork and the study of dreams. Requirements for Admission Click Here
Course Delivery
The Institute for Dream Studies provides distance learning with a human touch. All courses are delivered via real-time videoconference, online discussion groups and presentations, and videoconference Dream Groups. Students will be expected to complete several independent projects and reading requirements.
Technical Requirements
Students will need a computer or other device with ability to use video conference, as well as quality earphones for online group discussions.
Other Requirements
Courses will be conducted in English, so fluency and college-level literacy in English is required for admittance.
The Institute for Dream Studies
3-Level Certification Course
Program Details
Do you dream of following your passion and dreams for leading others into their nighttime dreams?
For over fifteen years has been offering quality courses in Dream Certification. Now we are offering updated and expanded online courses so we can make dream studies accessible to an even wider international community.
The Institute for Dream Studies Certification Program is a 3-Level, Interactive Online Program and culminates in the awarding of a Certificate for Dreamwork Professional (CDP).
Institute for Dream Studies courses include:
Participation in online dream groups

Discussion forums

Individually-paced lessons

Project-based learning

Faculty support and guidance at every step of your progress
They took the leap into IDS Certification
in 2023!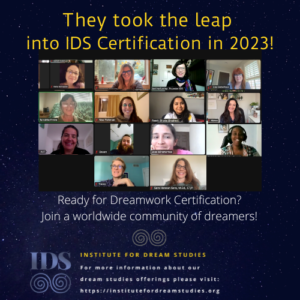 Ready for Dreamwork Certification?
Join a worldwide community of dreamers!
New IDS Certification Course Begins September 2023
Now Open for Applications
Follow your dreams with us into your future!